MIG 250 Welder incl. welding helmet and pressure reducer
From: 461,99 € Including VAT, excl. shipping
MIG-250 SET:
MIG MAG Schweißgerät 250 + Schweißhelm LY800H + CO2 Druckminderer + 5kg Schweißdraht SG2  1,0mm
Delivery time is 2-5 days
–
Whether you're a DIYer or a professional, this 3-in-1 unit will help you easily master all welding tasks, including FLUX-cored welding. With this MIG MAG Welder you can optimally weld thin and thick materials like steel, stainless steel, aluminum and aluminum alloys in all positions with high-quality welding results.
Type: MIG MAG Inverter Welder 250A

Processes: DC MIG/MAG, MMA, FLUX-cored welding

Power supply: 230V 1-Phase

Open circuit voltage: 70 V

Housing protection degree: IP21S

Overvoltage protection: Yes
MIG duty cycle: 250A-35% / 200A–60% / 160A–100%

MMA duty cycle: 200A-35% / 160A–60% / 130A–100%

Welding current MIG: 30-250A

Welding current MMA: 20-200A

Wire coils Ø MIG: 0,8/1,0mm

Wire feed unit MIG: 2 rolls (1 with drive)

Electrode diameter MMA: 1-4mm

Dimensions (LxWxH): 410x310x215mm
Universal device for beginners or professionals
This MIG Welder is built to be very efficient and robust, and at 10,75 kilograms, it is also extremely lightweight, which also translates to its greater durability. There is also a carrying handle on the top of the unit, which helps you be ready wherever you are by making it easy to transport.
With this MIG MAG Welder you can optimally process all common materials steel, stainless steel, aluminum and aluminum alloys with high-quality welding results. The welding current is stable and continuously adjustable. The device produces a beautiful weld, whereby the welding process happens with low spattering and quietly thanks to the two fans.
The high-quality 3-meter hose package, electrode holder and ground clamp provide you with enough mobility to enjoy the best working comfort.
Clearly arranged control panel
On the front you will find a clearly arranged control panel, which gives you complete control when setting your welding parameters. With a simple turn of the button you determine the speed of the wire feed as well as the MIG & MMA welding current.
CONTROL PANEL
–
IPO Technik-Handels GmbH grants all customers a 7-year guarantee for all welding machines and / or plasma cutters that were purchased directly from IPO Technik-Handels GmbH of the IPOTOOLS brand. You can find warranty conditions here: warranty conditions
IPOTOOLS LY800H – Automatic Welding Helmet with XXL Field of view
With this pro automatic welding helmet, you can weld carefree, with optimal protection and all welding processes (welding/cutting/grinding).
✔ Extra large field of vision
✔ 4 high-quality sensors
✔ Automatic darkening
✔ Fully adjustable
✔ For all welding processes
✔ Robust construction
This extra-lightweight and robust IPOTOOLS Automatic Welding Helmet provides you with a clear view of your workpiece while your head, face and eyes always enjoy continuous protection from sparks, spatter and heat.
TECHNICAL DATA – LY800H Automatic Welding Helmet
Model: LY800H Welding mask
Optical class: 1/1/1/2
Field of view: 100×93mm
Arc sensors: 4
DIN standard (light/dark):4/5-9/9-13
ON/OFF: Welding helmet automatic
Darkening: Stepless
Switching time: ≤1/10.000S
Sensitivity settings: Stepless
Delay time: 0.1-0.8 seconds
Power supply: 600mAh lithium battery & solar cells
Operation:-5 to 55℃
UV/IR protection: DIN16
Welding/Cutting/Grinding: Yes
Blackout test: Yes
Weight: 540g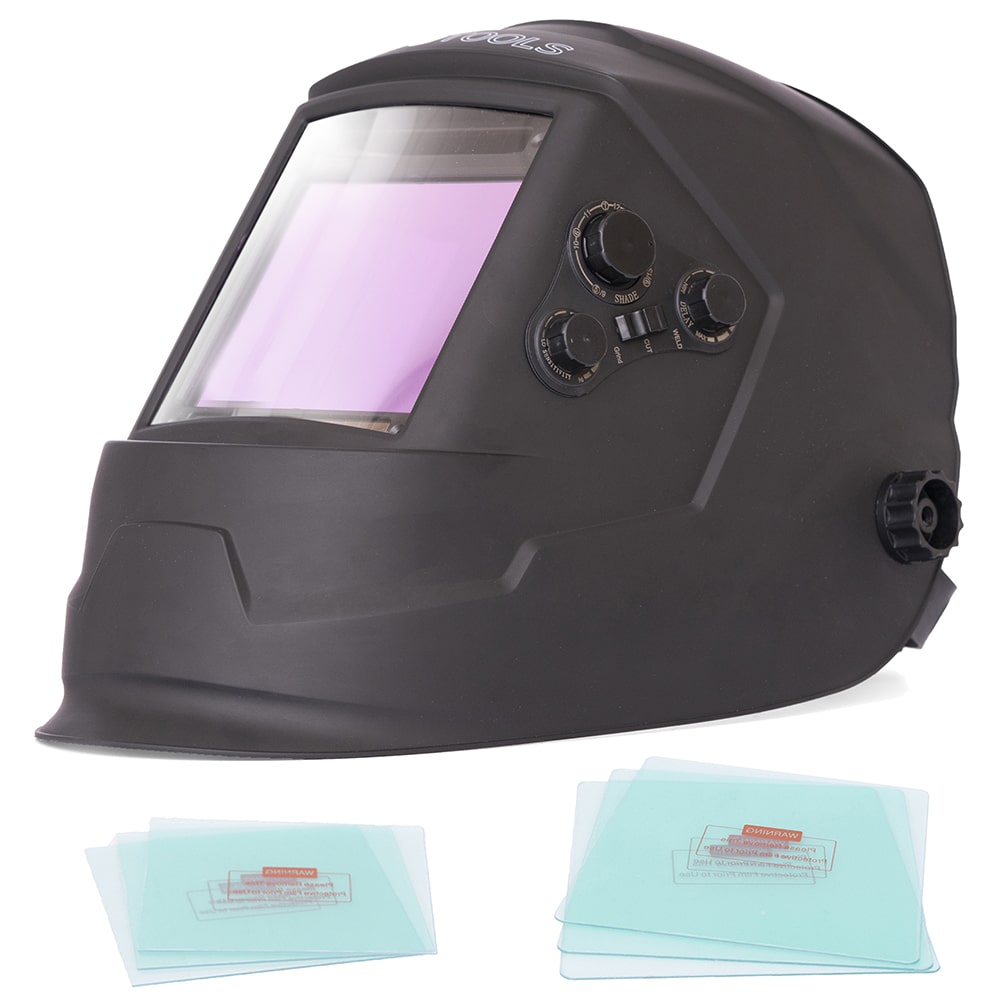 Professional pressure regulator Argon CO2 protective gas pressure regulator
The IPOTOOLS Argon/CO2 pressure reducer is a compact precision control device that requires no maintenance. The valve is ideal for use with MIG/MAG and TIG processes.
✔  High quality and robust pressure reducer
✔  Perfect pressure regulator for MIG MAG TIG
✔  Professional application
✔  Valve bottle pressure gauge 0-315 bar
✔  Flow rate: 0-30 liters/minute
✔  German standard connection W 21,8 x 1/14″
✔  Suitable for hose nozzles from 6-8mm
The individual parts of the pressure regulator are made only from high-quality and robust materials. The indicators on the pressure reducer CO2 are extra clearly designed. The regulation on the pressure reducer is done with a rotary knob.
TECHNICAL DATA
>> Max. Pressure bottle gauge: 0-315 bar
>> Flow rate: 0-30 Liters/ Minute
>> Cylinder connection: W 21,8 x 1/14″
>> Right hand thread
>> Hose nozzle: 6-8mm
>> Regulation: rotary control
>> Weight: 1200g
5kg MAG WELDING WIRE D200 – 1.0mm
High-quality MIG/MAG welding wire D200 – for welding with 1.0mm diameter.
The welding wire is on a plastic roll.
TECHNICAL DATA
> High-quality welding wire suitable for MIG / MAG welding machines
> D200 – spool diameter: 200mm
> Spool width: approx. 56mm
> Mandrel diameter: approx. Ø 50mm
> Wire diameter 1.0mm
> Industrial quality
> Excellent sliding properties
> AWS ER70S-6 CO2 welding wire
> Standard: ER70S-6
> Weight: 5kg
1 x 3in 1x MIG-250 welding machine

1x IPOTOOLS LY800H Automatic welding helmet with 6x replacement glass

1x 5kg welding wire D200 SG2 1,0mm

1x MIG Hose packageMB15 3 m

1x Electrode holder300A 2,5 m

1x ground clamp300A 2,5 m

1x Operating instructions
Additional information
| | |
| --- | --- |
| Weight | 20 kg |
| Dimensions | 53 × 38 × 36 cm |
| Schweißverfahren | MIG MAG |