IPOTOOLS CUT-100 – Plasma cutter IGBT / HF / 3×400V
999,99 € *

Delivery time is 2-5 days
✔ 7 YEARS WARRANTY*
✔ Adjustment range PLASMA: 20-100A
✔ Pilot arc & HF-ignition
✔ Cutting thickness: up to 35 mm
✔ IGBT Inverter
Plasma cut 100 by IPOTOOLS. The professional high-frequency IGBT plasma cutter IPOTOOLS DigiCUT-100with HF-ignition and Pilot arc is a great cutting tool for electrically conductive metals up to 35mm, such as standard steel, stainless steel, aluminum, brass, copper and titanium.
TECHNICAL DATA
> Power supply: 3x 400V / 50/60Hz
> Mains fuse (slow blow): 16A
> Adjustment range PLASMA: 20-100A
> Open circuit voltage: 200V
> Duty cycle PLASMA: 100A-60% // 80A-100%
> Kühlung: Lüfter
> Cooling: Fan
> Cutting thickness:  max. 35mm
> Dimensions (LxWxH): 630 x 400 x 500mm
> Weight: 25kg
PLASMA CUT 100 – FUNCTIONS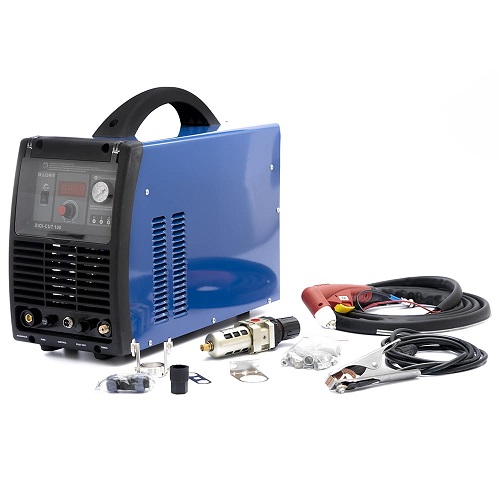 HF ignition with pilot arc
The pilot arc serves as an auxiliary arc, which is ignited before the main arc during plasma cutting. With the pilot arc ignition, the air is ionized, which becomes conductive and thereby creates a conductive connection to the workpiece. So the pilot arc prepares the contactless ignition of the main arc and also burns non-conductive impurities such as paint, rust, etc. are from the workpiece.
Main features:
>> Cutting thickness up to 35mm
>> HF-ignition
>> Pilot arc
>> Airflow test
IGBT Technology
The device is equipped with the latest IGBT inverter technology, which guarantees a high duty cycle and high performance!
Overvoltage protection
To ensure safety, while working with the inverter, it is also equipped with overvoltage protection, which also significantly extends the lifetime of the device.
Compressor
For operation of the device, you also require a compressor with 3.5 bar and an air volume of 100 l/min.
CAUTION!
Since the device requires three-phase power, this must be installed by a specialist.
–
IPO Technik-Handels GmbH grants all customers a 7-year guarantee for all welding machines and / or plasma cutters that were purchased directly from IPO Technik-Handels GmbH of the IPOTOOLS brand. You can find warranty conditions here: warranty conditions
SCOPE OF DELIVERY – PLASMA CUT 100
1x Plasma Cutter DigiCUT100

1x Plasma Torch P-80 with accessories

1x Air pressure regulator with dehumidifier
Additional information
| | |
| --- | --- |
| Weight | 27 kg |
| Dimensions | 65 × 43 × 53 cm |